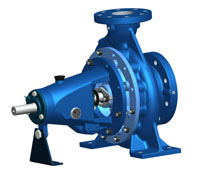 DB
Utility Pump

With a back pull out design these pumps are gland packed or mechanically sealed and are used for air conditioning, booster service, fire fighting and sprinkler system. Delivery size varies from 32 mm to 150 mm.
Features:
Conforming to DIN 24255
Back pull-out design
Gland packed / Mechanical seal
50HZ / 60 HZ availabilit
Applications:
Air Conditioning
Sprinkler systems
Fire fighting
Booster service
Delivery size up to 150 mm
Capacity up to 550 m³ /hr
Head up to 100 m
Temperature (-) 10 °C to 100 °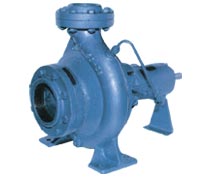 CPHM
Utility Pump
These pumps can be driven by electric motor or engine. The impellers are of enclosed type and are balanced statically and dynamically. The casing has axial suction and top centre line delivery. Smooth hydraulic passages ensure high efficiency.
Specification:
Conforming to DIN 24256, ISO 2858
Back pull-out design
Gland Packed / Mechanical Seal
50 Hz / 60 Hz availability
Application:
Booster Service
Fire fighting
Air-conditioning
Features:
Delivery size up to 200 mm
Capacity up to 750 m3 /hr
Head up to 150 m
Temperature (-) 30 °C to 90 °C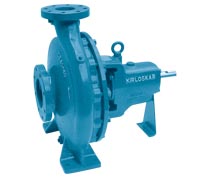 CE
Utility Pump
These pumps are of single stage with back pull out type suitable for 3500 rpm. These are either gland packed or mechanically sealed and delivery size can be up to 125 mm. These are very useful in air conditioning, water supply, fire-fighting and booster services.

Features:
Confirming to DIN 24256 and ISO 2858
Single stage with back pull-out type design
Suitable for 3500 rpm
Gland Packed / Mechanical Seal
Application:
Air conditioning
Fire fighting
Booster services
Water supply
Sprinkler system
Handling clear and turbid water up to 3000 ppm
Specification:
Delivery size up to 125 mm
Capacity up to 660 m³ /hr
Head up to 100 m
Temperature up to (-) 10 °C to 140 °C