WATER TREATMENT / SEWAGE TREATMENT :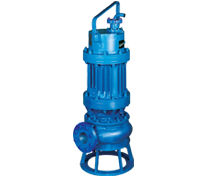 NS
Non Clog Submersible Pump
These are single stage, single suction pumps with overhung non-clogging impeller. Pumps can be offered in stationary as well as transportable arrangements. The stationary arrangement is supplied with pump connector unit and the connector unit is connected to pump support bracket with rubber diaphragm to make it leak proof joint.